From Obama's perspective, the beautiful thing about this is that the US doesn't have to take any big risks to punish Russia for its aggression, because Russia is being punished by the impersonal forces of the global economy (this has the added benefit of not giving Putin a propaganda tool, which US sanctions would do). Maybe even better is the fact that Putin can't cleverly negotiate his way out of these effects or try to game the system, and he now knows this will happen if he tries something like the Crimea annexation again. It's like someone built one of those electric shock fences around Russia's borders; Putin can cross them again, but he knows he'll get a shock, and he knows it's painful enough to not be worth it.
- Obama's strategy of letting Putin hang himself is working | Vox
It's been in the 80s here the last few days, so it feels like summer is basically upon us. Which means I will now be listening to Japandroids' Celebration Rock exclusively for the next 4 months.
This is what America would look like without gerrymandering | Vox
As Vox notes:
The map above crosses state borders, which is impossible in our current system. But the site also features maps for each individual state.
Here's Ohio's redrawn map: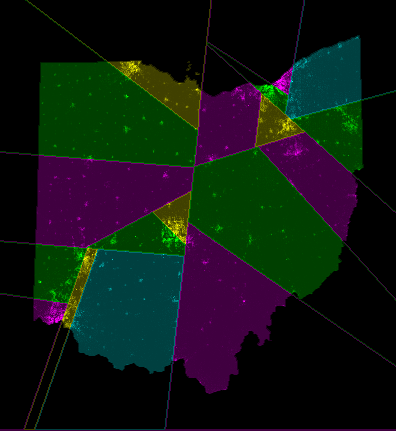 I feel like my avatar/header photo combo really accurately represents me as a person.
Mad Men previews are seemingly made by daring the show's editors to cut together 30 seconds of footage that includes at least half of the show's major characters without revealing any substantive plot point in the process. And they succeed! Every week! This week, apparently, Don will use an elevator, Peggy will ask "What?" and Pete will learn something he hadn't heard about before. Heady days.
- Vox's lazy Sunday guide to movies, TV, and music you can enjoy right now | Vox
Arcade Fire. (at The Schottenstein Center)
Search
Connect