It's been in the 80s here the last few days, so it feels like summer is basically upon us. Which means I will now be listening to Japandroids' Celebration Rock exclusively for the next 4 months.
This is what America would look like without gerrymandering | Vox
As Vox notes:
The map above crosses state borders, which is impossible in our current system. But the site also features maps for each individual state.
Here's Ohio's redrawn map: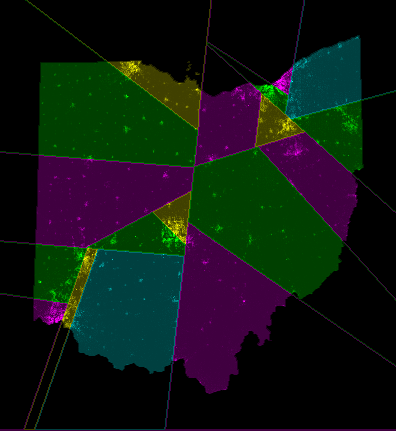 I feel like my avatar/header photo combo really accurately represents me as a person.
Mad Men previews are seemingly made by daring the show's editors to cut together 30 seconds of footage that includes at least half of the show's major characters without revealing any substantive plot point in the process. And they succeed! Every week! This week, apparently, Don will use an elevator, Peggy will ask "What?" and Pete will learn something he hadn't heard about before. Heady days.
- Vox's lazy Sunday guide to movies, TV, and music you can enjoy right now | Vox
Arcade Fire. (at The Schottenstein Center)
The government is too afraid to say it, but the internet is a utility. The data that flows to your home is just like water and electricity: it's not a luxury or an option in 2014. The FCC's original Open Internet rules failed precisely because it was too timid to say that out loud, and instead erected rules on a sketchy legal sinkhole that was destined to fail. As the WSJ reports, the FCC has once again decided against reclassifying broadband as a public utility. To declare the internet a public utility would go against the wishes of companies like Comcast and AT&T, which don't want to be dumb pipes. It's more lucrative to be cunning.
- It's time for the FCC to stand up for Americans instead of ruining the internet (via thisistheverge)
Search
Twitter